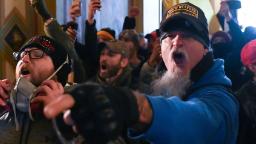 CNN has learned that federal law enforcement agencies, in a series of bulletins and calls with local partners this week, have issued an urgent call for assistance in securing the nation's capital as the inauguration nears, and painted a dire picture of potential threats leading up to January 20.
Officials are warning that last Wednesday's attack on the US Capitol by supporters of President Donald Trump will likely motivate additional follow-on attacks by extremists throughout 2021, according to an intelligence bulletin dated Wednesday and obtained by CNN.
Warning that the people who attacked the Capitol largely viewed their efforts as a success, the FBI, Department of Homeland Security and Office of the Director of National Intelligence said the attack "very likely will serve as a significant driver of violence" for a diverse set of domestic extremists, according to the bulletin.
The joint US government intelligence bulletin was first reported by The New York Times.
"The violent breach of the US Capitol Building is very likely part of an ongoing trend in which (extremists) exploit lawful protests, rallies, and demonstrations, and other gatherings to carry out ideologically-motivated violence and criminal activity," the intelligence bulletin warned.
The range of potential future targets of attack was varied, with intelligence officials warning in the bulletin that extremists could zero-in on government officials and institutions, as well as racial and religious minorities, journalists and members of the LGBTQ+ community.
The bulletin also indicated that the January 6 attack may have served as a venue for extremists of differing ideological motivations to foster connections.
In addition to the perceived success of the January 6 Capitol attack, intelligence officials warned that the response by law enforcement could also motivate extremists to respond with violence, including at Biden's upcoming inauguration.
"Since the (Capitol attack), violent online rhetoric regarding the (inauguration) has increased, with some calling for unspecified 'justice' " for a rioter shot by police inside the Capitol, the bulletin said.
Other motivations for possible future attacks included anti-government views held by extremists, as well as grievances associated with the false narrative that the 2020 presidential election was stolen.
"The increasing prevalence and influence of conspiracy theories based on a belief in the existence of global or 'deep state' actors who work to manipulate various social, political, and/or economic conditions of the United States very likely serves as a driver of some (extremist) violence," the report said.
The conspiracy theory-laden language observed by US intelligence officials has often mirrored baseless claims made by Trump. Throughout his presidency, Trump has claimed without evidence that a nefarious group of "deep state" actors have been secretly working to undermine his presidency, and he has continually spread disinformation about the integrity of the 2020 election.
Feds working with police around the country
As law enforcement prepares to respond to upcoming protests before and during the inauguration, FBI Director Chris Wray and Senior Official Performing the Duties of the Deputy Secretary of Homeland Security Ken Cuccinelli held a call Wednesday with law enforcement leaders from around the country to provide a briefing on the nationwide threat picture relating to planned protests, according to a person briefed on the call.
The source said the FBI briefed their law enforcement partners on intelligence reporting indicating protesters planned to conduct "peaceful, armed demonstrations" in Washington, DC, and at state capitols around the US on January 17 to protest the results of the 2020 election.
An FBI spokesperson confirmed the call, but did not provide additional details.
As CNN previously reported, an internal FBI bulletin disseminated to law enforcement warned that "armed protests" were being planned at all 50 state capitols and the US Capitol in Washington in the days leading up to the inauguration.
The FBI indicated federal law enforcement is currently working to identify any suspected extremists who may pose a threat at the planned armed demonstrations.
On the call, FBI officials said they remain concerned about the prospect of extremists appearing at planned rallies and conducting violence, and that violent domestic extremists continue to pose the most significant threat to Biden's inauguration, according to another source familiar with the call.
"The chatter is off the charts right now," one official told CNN on Tuesday regarding extremists talking online about future actions.
Federal officials stressed on the call with state, local, tribal and college campus law enforcement leaders that the FBI will not tolerate extremists using the First Amendment as a guide to incite violence, adding that they expect threats will continue past Biden's inauguration, the source said.
In addition to the potential threats at government buildings, officials discussed seeing an increased number of threats to private companies and their executives in recent days.
According to the source, federal officials said on the call that Russian actors have been amplifying the false narrative that members of Antifa infiltrated Trump supporters during the riot at the US Capitol, and the Chinese have seized on news stories showing chaos in the US.
Secret Service report shows government is monitoring threats
Another government report is shedding light on how law enforcement officials are monitoring the threat of potential violence in the coming days.
According to an internal US Secret Service report dated January 11 and obtained by CNN, analysts with the Secret Service's team responsible for monitoring websites and social media for planned demonstrations note that protesters unhappy with the 2020 election results are using online platforms to organize events in the Washington area and around the country.
In one online forum observed by investigators, the report indicated that a group calling itself "American Patriots Nationwide" is organizing a violent demonstration in Washington beginning on January 16. On its website, the group indicated it plans to use its members to surround the Capitol, White House and Supreme Court, and only allow the entry of people designated by Trump.
The Secret Service report said the American Patriots Nationwide group also planned to detain Democratic politicians who "played a role in planning or executing or supporting the attempted coup of the United States of America from 2016 to 2020."
The Secret Service bulletin did not offer an assessment on the realistic nature of the planned rallies nor how much confidence investigators have in the ability of organizers to achieve their stated objectives.
According to the report, groups associated with the Boogaloo movement planned to host an armed march from the Washington Monument to the White House, and encouraged its members to bring weapons.
Other separate events noted in the Secret Service report similarly encouraged protest attendees to come armed, although organizers did not explicitly encourage violence.
The District of Columbia has some of the strictest gun laws in the country and the open carrying of firearms is prohibited.
For Inauguration Day, the Secret Service report indicated that analysts identified more than 35 rallies being planned online around Washington.
One event dubbed the Million Militia March encouraged attendees to bring weapons. "The group claims they will not attack, but will defend," the Secret Service report noted.
As part of its protective mission, the Secret Service routinely reviews so-called "open source intelligence" to review planned rallies and protests staged near official events. The Secret Service report obtained by CNN indicated that recent efforts by social media companies to suspend users engaged in election-related disinformation has, in effect, hindered the ability of analysts to identify some details of planned inauguration protests.
Not all of the planned demonstrations listed in the Secret Service report were pro-Trump.
According to analysts, one group is planning a rally called "Smoking to Trump's Sorrow," in which attendees will join to together to smoke marijuana and celebrate the end of Trump's presidency.
Another planned DC event, dubbed the "Lesbian U-Haul Trump Out Parade" is being organized to help move Trump out of the White House, although the Secret Service did not indicate what logistics the group planned to employ to accomplish its stated goal.
"After close review of recent Tweets from the @realDonaldTrump account and the context around them we have permanently suspended the account due to the risk of further incitement of violence," Twitter said.
"In the context of horrific events this week, we made it clear on Wednesday that additional violations of the Twitter Rules would potentially result in this very course of action."
Twitter's decision followed two tweets by Trump Friday afternoon that would end up being his last. The tweets violated the company's policy against glorification of violence, Twitter said, and "these two Tweets must be read in the context of broader events in the country and the ways in which the President's statements can be mobilized by different audiences, including to incite violence, as well as in the context of the pattern of behavior from this account in recent weeks."
The first tweet was about Trump's supporters.
"The 75,000,000 great American Patriots who voted for me, AMERICA FIRST, and MAKE AMERICA GREAT AGAIN, will have a GIANT VOICE long into the future. They will not be disrespected or treated unfairly in any way, shape or form!!!"
The second indicated Trump did not plan to attend Joe Biden's inauguration.
"To all of those who have asked, I will not be going to the Inauguration on January 20th."
Twitter said the tweet concerning inauguration could be viewed as a further statement that the election was not legitimate. It also said that the tweet could be interpreted as Trump saying that the inauguration would be a "safe" target for violence because he would not be attending.
Trump's other statement about American patriots suggested that "he plans to continue to support, empower, and shield those who believe he won the election," Twitter said.
Twitter's ban specifically addresses "the @realDonaldTrump account," not Trump personally.
Twitter will enforce its policy against ban evasions to ensure that Trump does not circumvent his personal account's suspension, the company told CNN.
"If it is clear that another account is being used for the purposes of evading a ban, it is also subject to suspension," Twitter said in a statement. "For government accounts, such as @POTUS and @WhiteHouse, we will not suspend those accounts but will take action to limit their use. However, these accounts will be transitioned over to the new administration in due course and will not be suspended by Twitter unless absolutely necessary to alleviate real-world harm."
Twitter's policy would also prohibit Trump from directing a third party to operate a Twitter account on his behalf.
Trump sought to test Twitter's ban evasion policy at roughly 8:30 pm ET Friday evening, when he or someone acting on his behalf published four tweets from the @POTUS account.
"As I have been saying for a long time, Twitter has gone further and further in banning free speech, and tonight, Twitter employees have coordinated with the Democrats and the Radical Left in removing my account from their platform, to silence me," Trump tweeted.
The tweets disappeared almost instantly.
Twitter told CNN that the Trump campaign's account has also been permanently banned. Before @TeamTrump was suspended, it had been seen sharing the same four-tweet thread that Trump had attempted to post from the @POTUS account.
After Twitter permanently banned the Trump campaign's account, Mike Hahn, the campaign's social media director, objected.
"We copied and pasted a White House pool report," Hahn tweeted.
Earlier in the evening, a White House pool report was distributed that contained the exact language that Trump had attempted to share from the @POTUS Twitter account.
A Twitter spokesperson confirmed to CNN that what prompted @TeamTrump's ban was its attempt to share the same language Trump tried to tweet earlier.
Hahn argued it is nonsensical for journalists to be allowed to share Trump's words but that the Trump campaign is not.
"A serious question that needs to be asked by journalists: If you post exactly what the president said will you be suspended as well? Because that is all we did," Hahn said.
Asked whether it saw a difference between journalists reporting Trump's words and the Trump campaign repeating Trump's words, Twitter told CNN that there was a distinction.
"There's a difference between someone reporting on the President, and someone attempting to allow their account to be used by the president to essentially get around the ban," a Twitter spokesperson said.
Civil rights leaders who have long criticized tech platforms for spreading hate speech and division welcomed Twitter's decision.
Jonathan Greenblatt, the CEO of the Anti-Defamation League, called it an "excellent step."
"A fitting end to a legacy of spewing hate and vitriol," Greenblatt said. "President Trump incited the violent riots at the Capitol using social media & paid the price."
Eric Naing, a spokesman for Muslim Advocates, said Twitter "is showing real leadership."
"As Twitter notes, letting Trump continue to post tweets, Facebook posts and YouTube videos for his white nationalist supporters risks 'further incitement of violence,'" Naing said. "Now it is up to Facebook and Google/YouTube to follow Twitter's lead."
Even before the latest outrage, this week already marked a watershed moment for Biden's coming presidency, a ruptured Republican Party and the integrity of the US political system.
All of this is coming to a head as Trump incites protests in Washington in a bid to disrupt the election certification effort, amid fears of violence, while ignoring a worse-than-ever pandemic and the consequent deaths of 350,000 Americans.
In fact, the President blasted the world-leading US death toll as "fake news" on Sunday, while disregarding growing evidence his White House has botched the rollout of crucial new vaccines just as it did earlier stages of the pandemic.
But Surgeon General Jerome Adams contradicted Trump's false claim on CNN's "State of the Union," telling Jake Tapper: "From a public health perspective, I have no reason to doubt those numbers."
'I just want to find … votes'
The release of the stunning telephone conversation between Trump and Georgia's GOP Secretary of State Brad Raffensperger escalated the constitutional crisis Trump started stoking even before his election loss.
"So look, all I want to do is this: I just want to find 11,780 votes, which is one more than we have. Because we won the state," Trump said in a comment that at best was an abuse of power and could raise legal questions. Throughout the hour-long call, the President repeatedly prods Raffensperger to agree to his false claims that thousands of votes were illegally cast, that some ballots were destroyed or came from dead people or out-of-state voters. The Georgia secretary of state tells the President that he has false information.
A string of recounts, audits and legal cases have affirmed Biden's narrow victory in Georgia in November in one of the clutch of swing states he won on the way to 306 electoral votes and a clear victory over the President.
The tape recalled the kind of coercive, corrupt behavior that led to Trump's impeachment over a call with Ukraine's President, but that all Republican senators, with the exception of Mitt Romney, decided last year did not merit his ouster from office.
In the latest smoking gun call, Trump is heard trying to convince Raffensperger to announce that he had recalculated the vote totals and that the President won, and threatening criminal reprisals if his fellow Republican failed to act.
"At the very least it's an abuse of presidential power, which in a normal time would be impeachable," said CNN presidential historian Timothy Naftali.
John Dean, a former White House legal counsel in the Watergate scandal, told CNN's Fredricka Whitfield that Trump was at "the edges of extortion."
Biden senior legal adviser Bob Bauer said in a statement that the tape offered "irrefutable proof of a president pressuring and threatening an official of his own party to get him to rescind a state's lawful, certified vote count and fabricate another in its place."
"It captures the whole, disgraceful story about Donald Trump's assault on American democracy."
Call heaps pressure on Trump's GOP backers
Trump's call with Raffensperger suddenly heaped new scrutiny on Republican members of the House and Senate who have pledged to challenge the normally pro forma certification of the election result in Congress.
As they criticize results already ratified by Republican-appointed judges and the conservative majority Supreme Court, as well as state officials, many of whom are Republicans, they must now decide whether they stand by Trump's flagrant attempt to overturn the rule of law in Georgia.
A total of 12 Republicans, including Missouri's Josh Hawley and Texas' Ted Cruz, have said they will seek to disrupt the certification on Wednesday. House Minority Leader Kevin McCarthy, a California Republican, has signaled support for a move that may be supported by a majority of his members in the House, CNN reported.
"Do … Republicans want to be on the side of an abuse of power or a criminal conspiracy?" Naftali asked.
The shallowness of the Republican effort is revealed in lawmakers' arguments that it is being pursued not on the basis of new evidence of fraud but on the grounds that millions of Trump voters believe the election was corrupt.
"We have an unsustainable state of affairs in this country where we have tens of millions of people who do not view this election result as legitimate," Wisconsin Sen. Ron Johnson, one of the senators who plans to support an objection, said on NBC's "Meet the Press."
But Trump and his acolytes have spent months making false claims about election fraud, aided by conservative media organizations and White House officials who have blatantly lied about an election that Trump's Justice Department and other appointees have said was free and fair.
The corruption revealed on Trump's call to Georgia, meanwhile, removes any doubt that the President is trying to steal the election. That makes it harder for Republicans to argue they are replicating symbolic objections to election results in Congress adopted by isolated Democrats in previous years.
A Republican breach
Sunday's staggering developments sharpened the divide in the GOP after Hawley's decision to challenge the results burst open a breach that Senate Majority Leader Mitch McConnell had tried for weeks to mend.
The challenge to the certification and demand for a commission on false claims of voter fraud is just the latest in a long list of efforts by Capitol Hill Republicans to appease an unchained and lawless President who threatens to back primary challenges against those who cross him.
But several GOP senators, including Utah's Romney, Maine's Susan Collins and Nebraska's Ben Sasse have registered frustration with their colleagues.
"The egregious ploy to reject electors may enhance the political ambition of some, but dangerously threatens our democratic Republic," Romney said in a statement Saturday. "I could never have imagined seeing these things in the greatest democracy in the world. Has ambition so eclipsed principle?"
His 2012 running mate, former House Speaker Paul Ryan, vocalized his concerns in a rare public statement Sunday, saying, "Efforts to reject the votes of the Electoral College and sow doubt about Joe Biden's victory strike at the foundation of our republic."
Republican leaders are angry that Hawley — a potential 2024 presidential candidate — has effectively forced his colleagues into a vote on the election that is doomed to fail but leaves them to chose between democracy and a GOP President who is popular with the base.
"I think that if you have a plan, it should be a plan that has some chance of working. And neither of the two proposals that have been advanced will produce a result," said Sen. Roy Blunt of Missouri, a member of GOP leadership.
While McCarthy is backing the challenge, the third-ranking Republican in the House, Rep. Liz Cheney of Wyoming, sent a memo to colleagues on Sunday warning that it set a "dangerous precedent" that threatened to snatch away the responsibility of states for running their own elections.
"This is directly at odds with the Constitution's clear text and our core beliefs as Republicans," she wrote.
Another group of seven House Republicans — including a couple in the conservative House Freedom Caucus — also spoke out Sunday, calling on their colleagues to "respect the states' authority here" even "though doing so may frustrate our immediate political objectives."
Trump heads to Georgia
Trump's bombshell call could affect what are shaping up as two tight races in Georgia, where GOP Sens. David Perdue and Kelly Loeffler are facing voters. Republicans need just one of them to prevail to retain their Senate majority. If Democrats welcome both Jon Ossoff and Rev. Raphael Warnock as new senators, they will split the chamber 50-50, allowing Vice President-elect Kamala Harris to cast deciding votes on tied legislation.
Former Georgia gubernatorial candidate Stacey Abrams, who earned credit for helping engineer Biden's victory in the state, said on "State of the Union" that it could take several days for the results to become clear.
But she said she believed that strong turnout among Democrats casting mail-in votes had put the party in a strong position.
"This is going to be a very tough battle, but it is absolutely within the realm of possibility, in fact, the realm of likelihood, that Democrats can win," Abrams told Tapper.
Republicans need a strong Election Day turnout to compete. But there are fears among local activists that Trump's relentless assault on the probity of the presidential election in Georgia will convince his supporters that their votes will not count in the senatorial runoff races.
The President will seek to rally his base when he travels to Georgia for an election eve rally on Monday. Based on the contents of his call with Raffensperger, though, it is not clear whether his intervention will help.
CNN's Ryan Nobles and Arlette Saenz contributed to this report.